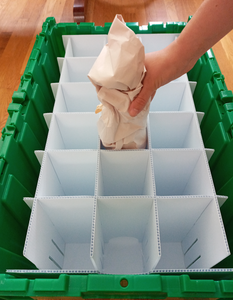 Rent our Glass Dividers to transport up to 18 glasses in one box.
Our reusable, plastic Glass Dividers are custom designed to fit into our boxes and arrive ready to use. We recommend wrapping glasses in paper or bubble wrap, especially if the glasses are thinner than the divider compartments. 

Glass Dividers are made of corrugated plastic.  Like our boxes, we pick them up when you're done, clean them and rent them again.
Product Specification:
Holds up to 18 glasses
Pre-assembled and delivered with your boxes.  Does not include an extra box.
Overall Dimensions: 23.5"L x 13.7"W x 10.8"H
Compartment Dimensions: 3.7"L x3.7"W x10.8"H

Please note:
This is available only as an add-on to a moving box package