Boston's Favorite Moving Boxes
Moving soon? Our goal is to make your move a bit easier and relieve some of the stress.
In the past eight years, we've delivered over 180,000 reusable moving boxes throughout the Boston area. That's kept over 110 tons of single-use cardboard out of the waste stream. If you're tired of the hassle and waste of cardboard boxes, you've come to the right place!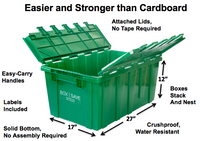 Save Time and Money
Quicker:
Just pack and stack. Labels are included.
Cleaner:
Every box is cleaned and sanitized.
Great Value:
Packages start at $149
Here's How It Works:
1. Free Delivery in Greater Boston
2. You Pack and Move
3. Free Pickup at your new location
We have used Box Save for our past three moves, and are so glad we did. Not only is this such a great service from an environmental perspective, but the boxes are really sturdy and make me feel much more confident about moving fragile items, rather than packing in flimsy cardboard boxes.
This is an amazing service. It made my move incredibly organized- despite moving during a pandemic with a toddler and infant. It is so much easier than putting boxes together and you don't have to recycle tons and tons of cardboard. The boxes were delivered and picked up easily and on time. Amazing!
Fabulous service!! Great communication. Reasonable prices. On time hassle free delivery and pick up AND a really nice group of people behind this company. We will never buy a moving box again! Thank you Box Save for saving us time, money and a whole lot of recycling!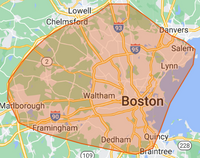 Free Delivery and Pickup in Greater Boston
Moving Box packages include free delivery in the red area.   Please contact us for quotes outside this area.
View Larger Map