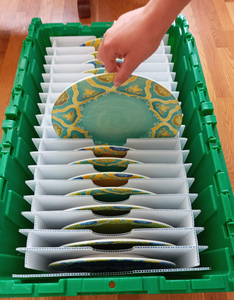 Speed up your packing and safely carry up to 18 dinner plates with a set of Dish Dividers. The set comes pre-assembled and is designed to fit most plates up to 10.75" diameter. Pieces can also be removed to accommodate thicker bowls and plates.

If your plates are small or fragile, we recommend wrapping them and/or filling voids with packing paper, bubble wrap, or kitchen towels to minimize movement.

Dish Dividers are made of corrugated plastic.  Like our boxes, we pick them up when you're done, clean them and rent them again.
Holds up to 18 plates
Pre-assembled and delivered with your boxes.  Does not include an extra box.
Overall Dimensions: 23.5"L x 13.7"W x 10.8"H
Compartment Dimensions: 11.8"L  x 1.1"W x 10.8"H
Please note:
This is available only as an add-on to a moving box package.